There two distinct elements that should come to mind when you think about the electrical wiring in your home or business. These elements are safety and efficiency. Not only should you feel safe when you use electricity, but no energy should be going to waste due to faulty or sub-par workmanship. And this is why you want to call Electricians Kent.
We Are The Electrical Experts You Need
Whether you are building a new home and require a complete installation, or the current system you work with needs repairs, we have the skills to handle the job.
Keep in mind that electrical work always carries a degree of danger. And there is simply no need for you to take any risks when you could be calling us.
With urgency, we'll come over and do a detailed assessment of the current situation. From there we'll provide a quote and answer any questions you might have.
It's important to note that our technicians are trained professionals who know everything about what they do. So, if anybody can help you with your electrical installation or repair needs, our electricians are the best in Kent.
We Are Reputable Electricians
We invite anyone to do a deep search into our reputation because we are proud of what potential clients are going to discover. It has taken a lot of time, effort, and skill, but our reputation speaks for itself in so many ways.
For example, our technicians are always punctual, well-mannered, and they respect your premises. As for our staff at the office, you won't come across more friendly or helpful individuals.
In fact, from the first second you start interacting with any of our employees you'll realise why we have a good reputation. And lastly, we always guarantee a professional finish to our work, meaning if you are not satisfied (which will be highly unlikely), we have no problem coming back and making the changes.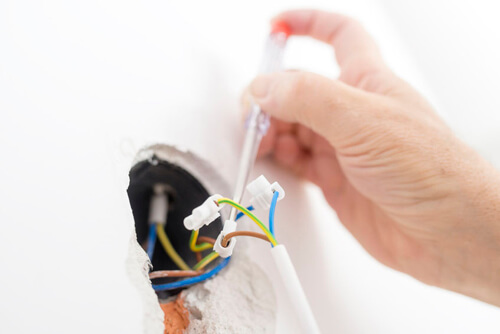 We Have A Lot Of Experience And Many Happy Clients
Given that the work we do can get very complex, we keep our business model simple. In other words, we rely on the quality of our work to leave clients so happy and satisfied, they can't wait to share our number. And the more clients we get, the more experience we get.
At this point in time, there isn't a project we can't handle or a client we can't impress with our experienced approach. Indoors or outdoors, residential or commercial, we love to challenge ourselves with every project and always aim to maintain the quality of our work.
We Offer High-Quality Workmanship
Faulty wiring can cause a fire or fatally shock someone, hence the reason for always hiring the best electricians in Kent. You need to be sure the people who do the repairs or installation go through the necessary steps of isolating wires for safety and strategically placing them where no damage can be done.
When you call us, expect nothing but the highest-quality workmanship Kent can offer. Thanks to our experience and training, we can always guarantee client satisfaction.
Make That Call Now
Instead of telling you more about how dedicated we are to the work we do and the communities we serve, we urge you to put our skills to the test. We offer competitive prices, friendly and helpful customer service, highly-trained technicians, and the best peace of mind where your electrical system is concerned.
More specifically, we want you to join our long list of happy clients. Because to us, maintaining client satisfaction is just as rewarding as gaining a new name on our list.
Electrical Services in Kent
Audio visual systems
Bathroom extractor fans
Ceiling Lights
Consumer unit repair
Consumer unit replacement
Cooker extractor fans
Electrical fault finding
Electrical testing
Electrical wiring and repair
Electric oven installation
Electric safety certificates
Electric shower installation
Fuse box repair
Fuse box replacement
Installing garden lighting
Installing lighting systems
LED lighting
Lightning protection
Light switches
Mood lighting
Placing transformers
Portable appliance testing
Repairing lighting
Repairing plug sockets
Replacing extractor fans
Security lighting systems
Switches and sockets